Meet your hosts
James, Michele, Joe, Amy and Paul Hnatishin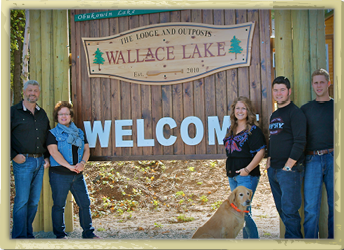 Pictured Left to Right: James, Michele, Amy, Paul and Joe
Our passion for the wilderness has lead us down the trail to purchase and manage Wallace Lake Lodge and Outposts. This is our true passion, and we invite you to share it with us.
James (pictured left) and Joe, both bush pilots who run the logistics of the lodge are busy ensuring all guests are enjoying themselves and have the necessities to feel comfortable at the camps. Their combined experience in the remote Canadian wilderness can be relied upon.
Paul, aka "Big Country" is the camp attendant offering assistance at the outposts. Need help finding the hidden Walleye hot spots? Paul can certainly point you in the right direction. Michele and Amy provide a feminine touch to the camp. They can both be found at the main lodge assisting guests with creating a safe and enjoyable experience. Hope to see you soon!